Laminate offers you a large family of styles and our goal is to help you understand the big picture on installation types when it comes to this unique family of flooring products. This information will let you shop smarter and compare with confidence.

For many of us, when it comes to picking a style of any product, we usually "know it when we see it." Perhaps that describes you, too.

Well, if laminate interests you, it's virtually guaranteed you'll find a style that's right for your home.

Let us explain laminate types of installation, and offer you all the information you need to make smart choices.

Is it real or laminate?

If laminates looked fake the last time you checked, it's time to check again!

Today's laminates are looking better and better, and often need close examination to be identified.

Laminates have truly come a long way. Why?

Because of the growing popularity of laminates, manufacturers are creating an increasing array of traditional, rustic, and exotic wood grain designs.

In fact, presses have improved to the point where the texture imprinted on top of the design looks more real than ever, even with distressed wood or natural stone designs.

FREE personalized design services
A Selection of over 15,000 samples

Customer Satisfaction is Guaranteed!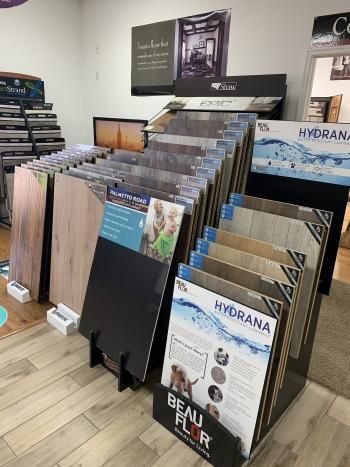 WE ACCEPT

Come into our store or call us today at (352) 683-1203